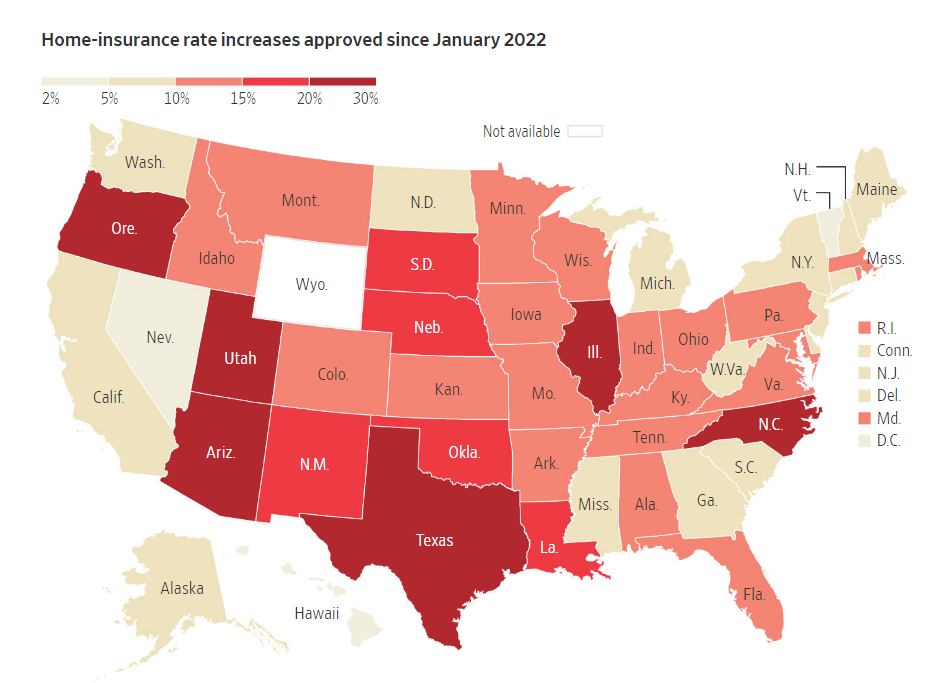 Utah has long been an island in a sea of insurance chaos and normally the last to see the latest insurance trends that normally start in Florida, California or Texas. This year however has been the exception. Homeowners insurance companies are crawling their way back to profitability and Utah is leading the way with 20-30% rate increases.
When losses start to rise, insurance companies take action in three areas:
Tighter Underwriting Guidelines. Companies will simply be pickier about the risks they take. This can include stricter inspections, underwriting for prior claims and only accepting risks with roofs that are 15-20 years or newer. Tighter underwriting guidelines for homes in high wildfire areas is another area where insurance companies are restricting business.
Insurers will place more risk back on the property owner with higher deductibles and lower coverage options. You may not see all bells and whistles that you did before in an insurance policy. The typical deductible these days is $2500.00 placing more responsibility back on the homeowner.
Limitations on coverage for roofs is an area where you will see insurance companies start to take action. The door-knocking roofers are one of the biggest reasons for rate increases over the last five years. Insurance companies are pushing back with ACV – actual cash value roof coverage or depreciation schedules that are common in many homeowners' policies these days. If your old roof needs to be replaced, plan on paying that out of pocket. Your insurance policy was never designed to cover wear and tear and you will see a return to that like it was in the "good old days."
Property insurance rate increases will continue through 2024 with Utah seeing increases between 20-30%.
What can the average property owner do to control costs of their homeowners or rental property insurance?
Increase your deductible. $2500.00 is a very standard deductible in 2023 and beyond. This will save money and help keep the small claims off of your insurance policy.
Pay small claims out of pocket. "Homeowners insurance is not a maintenance policy" is a common statement you will hear in insurance offices when clients call to file claims for maintenance items that are not normally covered by insurance. Don't use your policy for maintenance, it will cost you in the long run. Two claims in three years will normally cause a non-renewal and a new policy will cost you twice as much with a higher deductible and less coverage.
Maintain your property at a high standard. Cutting back trees that hang over the roof or touch the home should be cut back. Paint your home where necessary. Keep rain gutters maintained and clean of debris. Repair your roof when necessary. These are just a few suggestions.
Property Insurance is based on your "insurance score" which is a combination of many factors including your credit. Keeping a good credit score will help you pay lower insurance premiums for both home and auto.
The age of your property makes a difference in the rate. Insurance for an older home will cost 2X what a newer home costs to insure.
At Anderson Insurance we represent the best property insurance companies in Utah. We are confident in our ability to provide the best options for your home or investment property. Call or click today for more information.
Homeowners Insurance – Investment Property Insurance – Apartment Insurance – Rental Property Insurance